Natural brushes
Our hair brushes are made of wooden handles and natural bristles.
In addition to your horn comb, our boar bristle brushes are made of wooden handles and natural bristles. You will have the choice between several types of hairbrushes. Boar bristle, pig bristle or domestic goat bristle brushes. All our brushes are guaranteed 100% natural bristles and 0% nylon. They are made in Germany (olive wood brushes) and France (beech wood brushes). The hair comes from livestock (usually Asian wild boar). The wood comes from sustainably managed forests. If you find nylon in a brush, we'll refund you twice and our supplier will hear from us. But it is highly unlikely, he himself having a very ecological brand image to maintain.

Boar bristle brushes make your hair silkier and hydrated, in addition to strengthening it. Using natural bristles will suit any hair type. The large oval boar bristle brush is one of our bestsellers in the boar bristle brush category.

Boar bristles are very strong, which is why these brushes can last a very long time. Their hold promotes good blood circulation in the scalp. The boar bristle brushes allow a good distribution of the sebum over the entire length of the hair in order to reduce the quantity at the root and nourish the ends. Sebum protects hair from external aggressions and makes hair shinier. Boar bristle brushes are totally eco-friendly and better than synthetic brushes for your hair.

You'll feel totally relaxed with our boar bristle brushes, designed to stimulate blood circulation and promote healthy scalp. The soft bristles of this brush gently massage your scalp, leaving you feeling refreshed and relaxed.

Boar bristle brushes are one of the oldest types of brushes. The bristles are made from hard and coarse boar hair from Asia or Europe. They are similar to human hair (keratin).

Boar bristle brushes are a great option for anyone looking to complement a horn comb to remove static from their hair and improve circulation to their scalp. They are ideal for all hair types, fine or thick, curly or straight, wet or dry. Firm bristles are great for adding volume to fine hair.

Want to keep your hair beautiful and shiny? The boar bristle brush is the ideal hairbrush! This wooden brush allows you to remove impurities from your hair while distributing sebum from root to tip, making your hair healthier.

To ensure optimal hygiene, it is recommended to use a brush with natural bristles. The purpose of this first brushing is to remove impurities, dead skin and textile fibers that have entered the hair. It also helps prepare sensitive hair for detangling, to make it less painful. The natural bristles of the brush ensure that it does not attack the hair or the scalp. In addition, since it is made of keratin (like our hair), it prevents the accumulation of static electricity. This brush must be shampooed regularly with a natural shampoo or simply a mild soap.

To distribute the sebum, the brush with natural bristles is recommended. Boar hair respects the scalp because it is also composed of keratin. The large number of hairs allows the sebum to descend from the root of the hair (where it is naturally secreted) to the tips in a few passes. The hair becomes shinier and more supple, while being protected from external aggressions.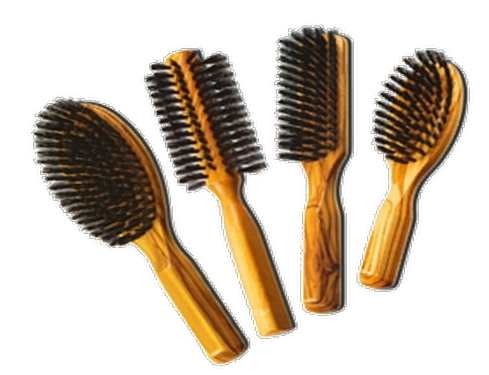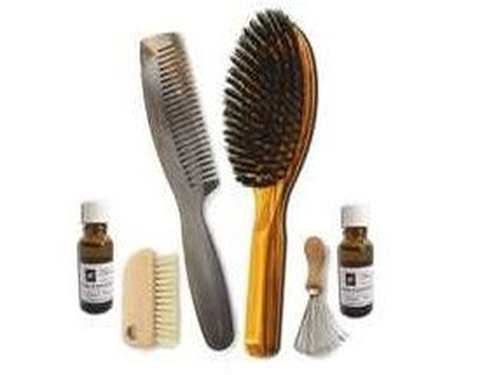 Combined Horn comb &...
Combinations of a horn comb and a boar bristle brush
Voir les produits