Horn combs
Here are all of our natural horn combs. Enjoy as each horn comb is unique! Each one is suitable for any kind of hair. Large-toothed for detangling. Narrow-toothed for smoothing. Pocket, afro, beard, joint, crimping... Every kind of hair has its own comb : Long hair or short. Thin or thick. Smooth or frizzy. Dry or greasy...
Horn comb is avoiding static electricity. It is  totally natural. Hair are recovering a better health. All our horn combs are made in our workshop in France, in Perigord.
For a better combing we also suggest natural brushes which are complementary to combs.
Enjoy how unique each horn comb is! Find here all of our horn combs. Our range is made up of 24 models to suit each type of hair: short or long hair, straight hair, curly or curly hair, fine or thick hair... In all cases, the horn comb is the best ally for removing hair static electricity. Depending on the habits and tastes of each, some horn combs have a handle, others are single or double toothed, smoothing combs, detanglers or afros.

In addition to our horn combs, choose a boar bristle brush to perfect your hairstyle. In both cases, comb or brush, our hair accessories are 100% natural. Each horn comb is a unique creation and therefore has its own personality. Completing your routine with the best hair accessories is easy with our range of horn combs, boar bristle brushes and more. Want to have beautiful hair? Here is your solution. Our range of horn combs and boar bristle brushes are all 100% natural. Choose the comb or brush that suits your style and grab one for every occasion!

The natural, hypoallergenic, durable and resistant horn will last for years! These combs are perfect for removing knots thanks to their smooth surface (made of keratin, the same material as hair) which glides effortlessly through the thickest and finest hair. Whether you have short or long hair, curly or straight, thick or thin… Our horn combs are a natural ally to eliminate static electricity from your hair. Use them before brushing your hair to keep it healthy and shiny. For an even better result, combine them with a boar bristle brush!

An accessory that puts you at ease and adds a touch of luxury to your daily life. Beauty should not be confined to luxury salons, but should be found in everyday objects that bring us comfort and pleasure. This is why we have created the most complete collection of horn combs possible.

Find a comb for every situation here and enjoy the benefits of each horn comb. We offer all types of combs, which are suitable for all hair types. Afro combs, detangling combs, smooth combs, combs with single or double teeth... Our horn combs are carefully crafted to respect their unique beauty, quality and natural character. Each comb has different colors, so no two are exactly the same.

Thomas Liorac is the French horn comb specialist. The combs are all handcrafted in Périgord. Horn combs have been used for centuries and are still handcrafted today using traditional methods. Thomas Liorac is an expert in the manufacture of horn combs in France and it is also he who is at the origin of these magnificent, very resistant combs, available in a wide variety of models and perfect for all hair types. Made from the same molecular structure as hair, the horn comb has many advantages over combs made from other materials. The keratin molecules of the horn are neutral for the hair. Their smooth surface does not catch your hair. Your hair will be stronger, healthier and thicker.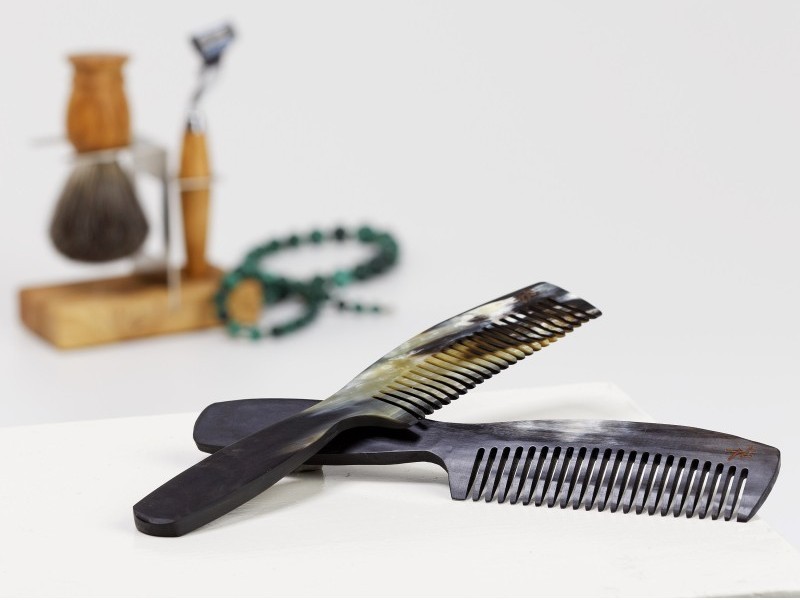 Classic combs
Conventional combs are those daily used for hair. The horn combs glide through the hair much better than wooden combs.
Voir les produits